Is a state-of-the-art animal feed manufacturer unit established with European standards, fully automated, with
a state-of-the-art packaging unit and technical equipment, capable of producing all types of feed
(Pellet, Flakes, Flour) for all breeding branches of farm animals. It focuses on the production,
standardization and commerce of compound feed, both conventional and organic.
Its facilities are located in the 12th km of Argos-Sterna provincial road, occupying a 12 acres area,
forming an engineering technological infrastructure that meets all the specifications of quality assurance
certificates -ISO 22000-. With the certification for production of organic mixtures and raw materials,
KAPPOS industry is also approved by all competent authority vectors, having compound feed code: αEL 1100002.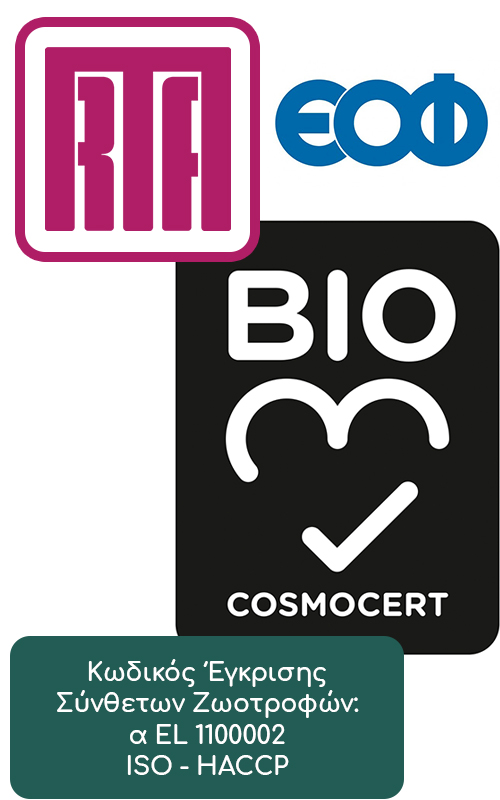 Its workforce consists of people with experience, expertise and continuous training in the field of agri-food,
while advancing their technology and science in the field of livestock breeding.
The basic raw materials pass the most essential and strict criteria for selection,
as they are all certified and the final products have a system of traceability. The analysis of both our raw materials
and our products is happening at the chemistry available to our company, both inside and outside laboratories,
and it is a key asset in preparing a well-balanced diet.
The collaboration of KAPPOS industry with large companies of food additives and supplements in Europe such as France,
Germany, Netherlands, Switzerland makes it innovative and evolving in the field of livestock production
by producing products constantly improved, following science and the experiments of its partners.
Timeline
Our Development
So Far
<! ========= Cool Timeline Free 2.4.4 =========>
Ιστορία – Εξέλιξη Μέχρι Τώρα
1990
It started in 1990 on the provincial road of Karyas in the city of Argos, after it was approved and licensed by the Department of Industry & Mineral Wealth of the Argolida prefecture in the name of Vassiliki Kappou and later passed into the hands of her son, Leonidas A. Kappou, changing its brand name.
2002
In 2002, due to increasing demand, the need for larger facilities which would lead to higher production was born.  It was then decided for the company to relocate to another location in order to expand and evolve.
2006
In 2006, the decision was implemented and the company relocated to the 12th km of Argos-Sterna provincial road on a 12-acre site, forming a building and engineering technological infrastructure that meets all the requirements of a modern integrated feed-production unit.
2012
In 2012 the company made a new investment by further modernizing its machinery for larger productions while maintaining the excellent quality of its products.
2015
In 2015 KAPPOS SA was certified by the National Medicine Organization for the production of medicinal feed,  thus covering the needs of big livestock farms and expanding its range of products.
2017
The company did not stop investing and risking. It made another investment in the horse-feeding industry.  It added mechanical equipment that caramelized the horse's food, creating an innovative top quality product.
2020
Our company KAPPOS LEONIDAS SA has proceeded with a new investment program "ERGALEIOTHIKI ANTAGONISTIKOTITAS" of the ESPA by adding to its fleet a new EURO 6 truck, following European standards. In addition, it has added a printing machine and a bag sealer machine to its technological equipment. Upgrading the way ingredients, chemicals, vitamins and labels are listed on an international and European standard is one of the key criteria for making our products available both domestically and on the market. This new investment that Kappos Leonidas SA wants to make is interconnected and necessary, with the new way of welding the bags (thermal welding). This way it will be able to ensure the excellent quality of its products both in their quality characteristics and during their storage in the package.
Our Vision
---
Our company since its inception, has the motto EXPERIENCE-KNOWLEDGE-DEVELOPMENT. KAPPOS SA does not stop evolving, learning and supporting the Greek farmer and the primary sector, filling its warehouses with experience. Our collaboration whether with our Vendors or with our Customers is a relationship of trust for us. Our customer satisfaction has been and will continue to be our pleasure.
Our Workplace
---
This is where the electromechanical equipment of the industry is located. There are three main phases of the craft's operation:
Receiving - Storage of Raw Materials
Producting - Processing
Storage of completed and bagging